Deck Stain Reviews
Looking for the best reviewed deck stains? Olympic has some highly-rated deck stains you should take a look at when starting your next deck staining project. Below are a couple reviews of some of our highly-rated wood stains.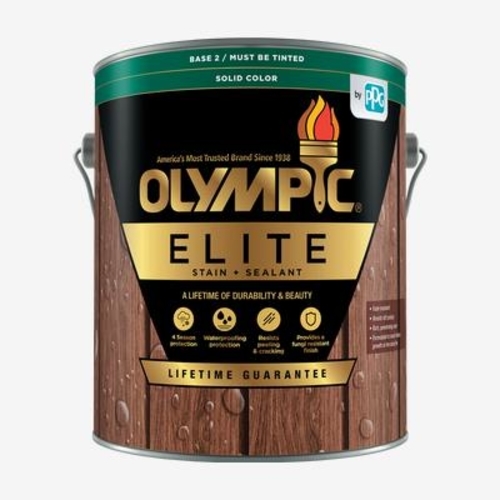 Elite Advanced Stain + Sealant - Solid Color Wood Stain Review
Deck Stain Reviews
Check out this great review of ELITE Advanced Stain Sealant In One Solid Color Wood Stain from BobVW of Rochester, New York!
⭐⭐⭐⭐⭐
Great Product - Great Look !
"The finished result has been excellent for our 15 year old deck that had 2 coats of solid stain previously applied before we bought this house 3 years ago, 2nd coat was peeling away from 1st coat that was also peeling away. The key to my success was the prep before apply the solid stain, spent 10 hours on both a Saturday and Sunday sanding with a deck sander rented from HD with 20 grit sanding sheets, using deck stripper on what was left, scrapping the softened stain on my hands and knees, thoroughly rinsing the stripper, sanding again after it dried and then washing with a deck cleaner. I then let deck dry for 48 hours and applied 1st coat of the Elite solid stain with 5" brush, really soaked into the old PT decking. after 24 hours I applied a 2nd coat again with the 5" brush. As you can see it looks great ! The adhesion of the stain appears to be very strong and after 48 hours of drying the surface is hard to the touch which I hope leads to durability.
This was a lot of work but cheaper than putting down new PT or a composite material."
✔ Yes, I RECOMMEND THIS PRODUCT.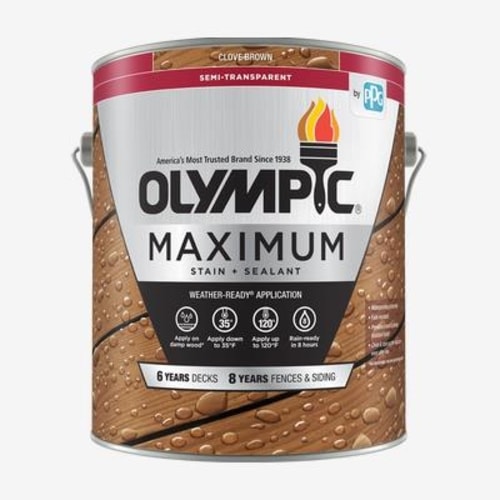 MAXIMUM® Stain + Sealant In One Semi-Transparent Low-VOC Review
Deck Stain Reviews
Check out this 5 Star Review of MAXIMUM® Stain Sealant In One Semi-Transparent Low-VOC Wood Stain from Artie in New City, NY
⭐⭐⭐⭐⭐

Great Stain. Great Color.
"I stained my deck recently, and I am thrilled with the results. I stripped the old stain, cleaned the deck, and then used the same color as last time. It took very well to the wood, and it came out great. My wife likes it too, and that's what really matters."
✔ Yes, I RECOMMEND THIS PRODUCT.