Spar Urethane
Spar urethane got its name from the spars - or poles - that you would apply this gorgeous polyurethane wood stain to in order to protect it from the environment. Since then spar urethanes have been synonymous with typical polyurethanes and wood varnishes that protect the wood while enhancing its beauty. To find out more about the spar urethane that Olympic offers, read on below.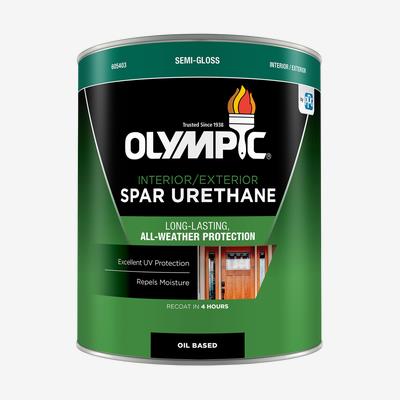 Learn About Our Spar Urethane
Spar Urethane
Our Spar Urethane is a self-leveling oil-modified urethane that protects wood from water, sun and wind damage. This advanced formulation contains UV inhibitors to prevent fading and discoloration from sun exposure. This Spar Urethane enriches surfaces with a warm amber tone while providing a durable finish. Choose from a gloss, semi-gloss or satin finish. Ideal for stained or bare wood surfaces such as doors, furniture, trim, windows, garage doors, and more.
Oil based Spar Urethane built for interior and exterior woodcare projects

Protects wood surface from water, sun and wind damage with a durable and washable finish

Delivers a natural, warm amber tone to the wood surface

Easy to apply Spar Urethane, self-leveling urethane formula helps you apply quickly and evenly

Spar Urethane is formulated with unique UV inhibitors help resist fading and discoloration from the sun

This advanced spar urethane repels moisture and resists cracking and peeling

This spar urethane ideal for protecting and enhancing the look of bare or stained wood doors, furniture, windows and trim, garage doors and more